[UPDATE: This is not just for paperbacks! Hardbound books and audio books can also be swapped!]
You might have noticed the new button on my sidebar for
Paperback Swap
. I've seen it around the blogosphere and finally gave it a try. I. AM. IN. LOVE! I love books. I like to look at books, have books, hold books, flip through books, and sometimes even
read
books. LOL! But you know what, that
can
get expensive when you like to own your books. I think I've found a way to own my books and save my bank account!
Here's the basic concept:
After you sign up (currently free), you post books that you no longer want that are in good condition. Once you post 10 books that you are willing to part with, you get an instant 2 book credit (you can order 2 books from those posted). I EASILY found 10 books to part with: some were kids' books, baby info books, devo books, even a book
without
an ISBN. Of the 10 books I posted about a week ago, I only have 1 left here waiting to be requested!
You are in charge of paying shipping for the ones you send out (Media Mail makes it cheaper at about $2.50 - $5 per book depending on weight and size). I pay no shipping on the ones I request. It doesn't matter how much the book costs - a book is a book is a book. That makes it easy.
Even if you look at the maximum cost of shipping all of the initial 10 books posted (say $50), it would be almost impossible to find 12 books for under $50 unless you go to the library or shop yard sales regularly. Right now there are 2,150,719 books posted at Paperback Swap that I can access from my own home!
For each book that is received by another member from you, you get a book credit. Then you can swap that credit for a posted book. You pay nothing for the books you request (except your book credit).
You can also get a book credit through referrals. Once your referral posts 10 books, you'll get an extra credit (and the new person gets 2 credits).
So... if you have any interest in books, click on the button on my sidebar and go take a look around. If you decide to sign up, my email should automatically be shown as the "referrer". If not, please enter missbecky75 @ yahoo . com (without the spaces).
You do not have to be a blogger to participate. You do need a computer and some books, though!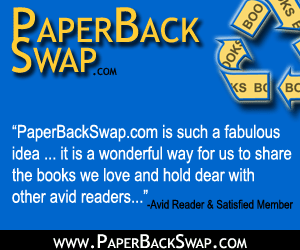 Happy reading!